Beep…Beep…StoreToDoor closes seed raise at $1.25 million
We're proud to celebrate StoreToDoor's announcement of closing a CAD $1.25 million seed raise! The investors include Inverted Ventures (Calgary, AB), LEX Capital Corp. (Regina SK), Golden Opportunities Fund (Saskatoon, SK), Startup TNT (Saskatoon, SK), and numerous angel investors from across Western Canada.
What's next for StoreToDoor? Scott Love, Founder, and CEO of StoreToDoor explained: "we want to continue to grow our team so we can succeed in delivery but also exceed in the standard of client satisfaction. We will continue to invest in our drivers with above-average compensation and continue to give them every ability to be successful when driving for StoreToDoor retailers."
StoreToDoor is on the move to increase their business and expand their current client base. The business is currently operating in markets from 25 cities in Canada including cities in Alberta, Saskatchewan, Manitoba, and Ontario. It is expected that the company will be delivering in over 50 Canadian cities by the end of 2022.
This  'same-day-delivery' platform specializes in delivery efficiency and simplicity. They are on a mission to enhance the delivery experience for each retailer and their customers. This platform allows retailers the ability to offer customers a cost-effective, same-day delivery service. StoreToDoor enables the retailer to track and brand the process for the delivery experience and has become an integral part of many businesses as it acts as an extension of the retailer's services. Unlike other delivery services, StoreToDoor does not take a percentage of the sale from the business' orders; their business model is rather a simple 'pay-per-delivery' and prices are adaptable based on the volume of deliveries.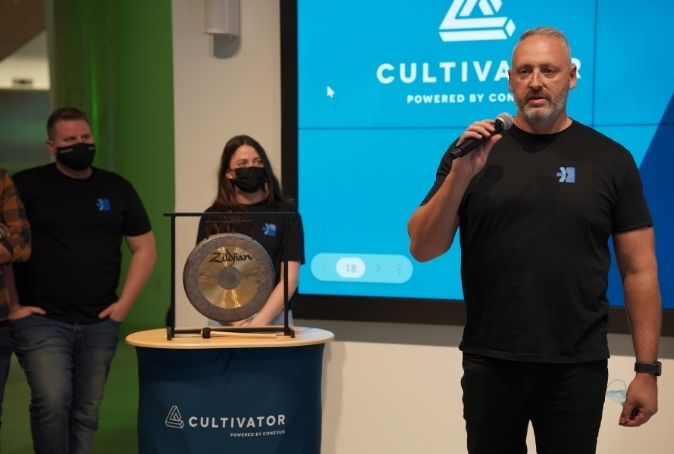 With the growing sentiment for "shop local", now is the best time for retailers to capitalize on this by improving the e-commerce experience, which is also a means of strengthening delivery. Scott Love said, "when the vision for StoretoDoor came to me in 2019, I was most concerned with our local retailers and the impact they were seeing from large e-commerce companies like Amazon. When COVID-19 hit, and this was even more apparent, it gave me and my fellow founders the sense of urgency to launch a solution to make sure these businesses stayed in our communities and continued to create jobs and support our local ecosystems. We did that in early 2021 and the support has been beyond expectation."
The rapid success of this Cultivator company continues to amaze the startup community! StoreToDoor joined Cultivator's START program in February 2021 –winning their Cohort 4 Demo Day prize of $10,000. The company fast tracked through their GROW programming, and is now joining Cultivator's SCALE programming. With the current seed raise, StoreToDoor looks to use the funds to achieve its hiring and revenue milestones as quickly as possible to reach a national scale in 2022. Scott says, "this will not be easy, but we will continue to expand across Canada because we know how important local businesses are to the fabric of our communities."
Learn more about StoreToDoor and the delivery services they provide for businesses, by visiting them online.
Looking to join the team? StoreToDoor is always expanding their team and hiring more drivers! Head to their website, or check them out on LinkedIn.