GROW + SCALE Founder's Retreat
Last week, our GROW + SCALE founders had the opportunity to sit down with experienced tech professionals that provided new perspectives on their startup journey.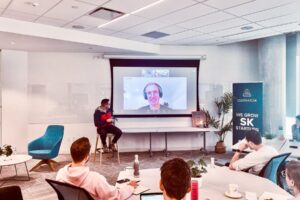 First, we kicked things off with a Q+A time with the director of engineering at Wealthsimple, Chris Inch. Chris spent a number of years at Shopify before moving to Wealthsimple. Founders were able to identify with the tech challenges Chris faced in the early stages of Shopify and Wealthsimple.  Chris highlighted the importance of sifting through the noise from big-name clients and how to create high-performance teams that work towards a common mission. 
"We never turned a company away because they were too big, we saw them as a challenge." – Chris Inch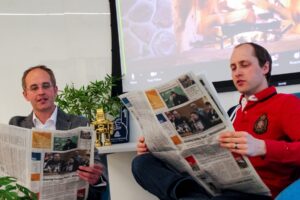 Next, we had Tim Borgares and Dustin Coupal, Co-Founders of 54e Dev, who brought the heat in their fireside chat! Tim and Dustin kept our founders laughing and engaged by adding in some hilarious realities of the startup life as they related their stoires to current news headlines. This charade lightened the energy in the room as Chris and Dustin shared their journey of selling their world-renowned GasBuddy app and starting 54e Dev.
"You can't become a unicorn if you strive to be a horse." – Dustin Coupal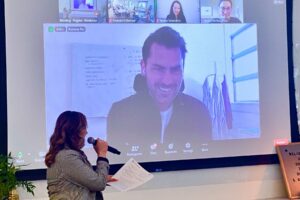 Finally, to close things out, we were joined by the Co-founder and CEO of tentree + veritree, Derrick Emsley. Derrick kept things real with us and gave us some raw insights into the evolution of a founder to a CEO. Derrick shared with us the origin stories of tentree and the creation of veritree.
"A founder does everything, but starts to transition to a CEO when they start to fully trust their team to get the job done– they stay out of the weeds and can focus on overall vision." – Derrick Emsley
Thank you to our guests, Chris, Tim, Dustin, and Derrick for taking the time to share your unique backgrounds with our Cultivator founders.