START Cohort 7 comes to a close with Demo Day
The 7th Cohort of START looked a bit different for this go around…

This Fall, we tried something new! We condensed the program to create an intensive 2-day ACCELERATED in-person experience. Cohort 7 received all of the START content jam-packed into two weekend sessions.
Following programming, the 7 companies had the chance to perfect their pitches as they were tasked with creating a 3 minute pitch of their companies to a panel of expert judges at Demo Day.
Take a peek at the START Cohort 7 companies: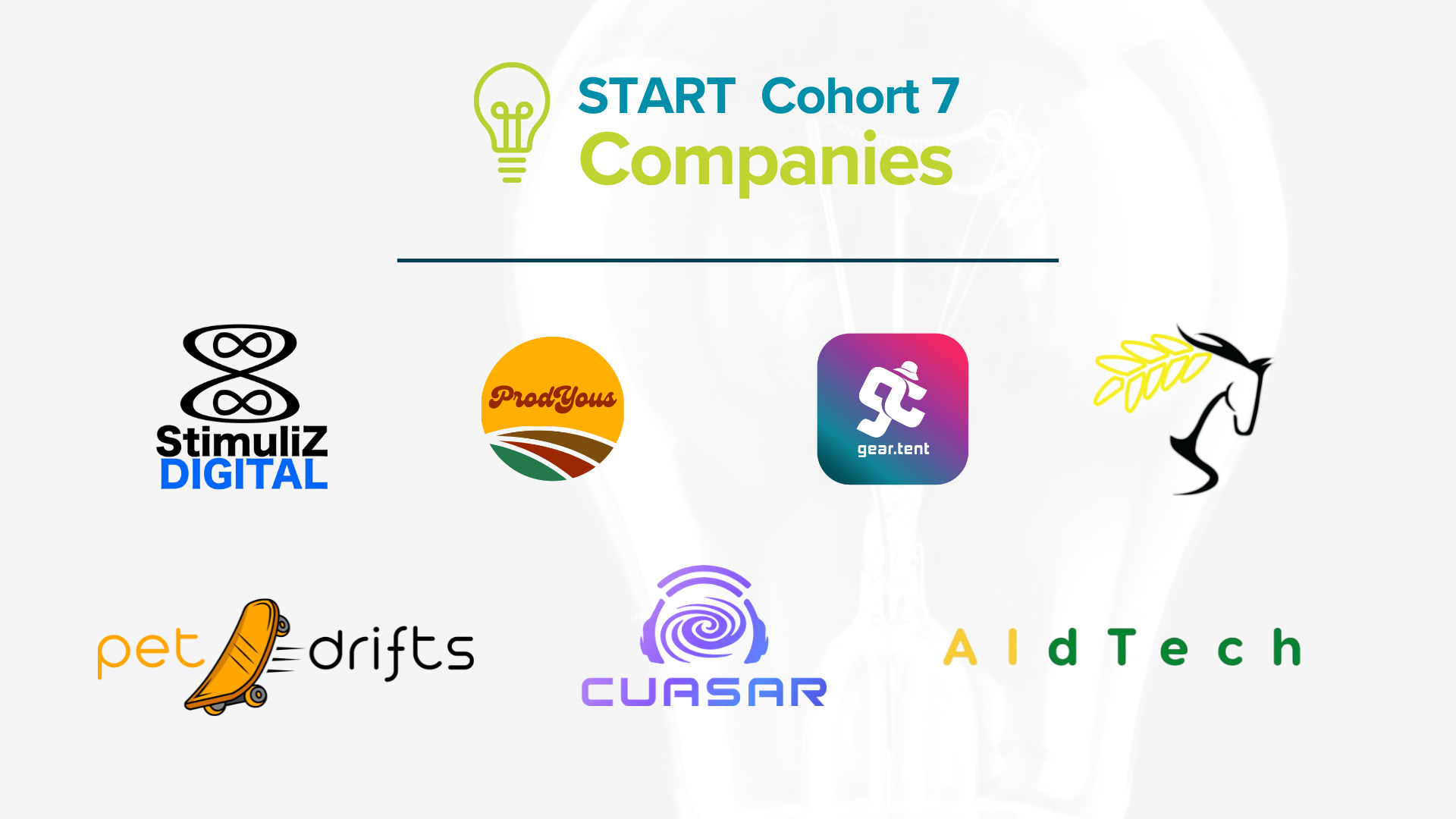 Cuasar
Founded by Julio Cabrera del Castillo, Cuasar makes buying and selling IP simple and profitable.
Pet Drifts
Founded by Harmandeep Singh, Pet Drifts helps people read and understand their pets' health avoiding costly vet visits.
ProdYous
Founded by Hannah Tait, ProdYous connects local produce growers and local consumers.
AIdTech
Founded by Ruhid Mirzayev, AIdTech analyzes bovine behaviour to further prevent the spread of diseases and loss of life by combining artificial intelligence and existing UAV technology.
StimuliZ Digital
Founded by Christopher Jason, StimuliZ Digital helps users in the digital world create and maintain their own unique digital persona that is secured, verified and cannot be duplicated.
Dark Horse Ag
Founded by Tyler Lefley and Garrett Fraser, Dark Horse Ag addresses the struggles that farmers and agronomy businesses have collecting and processing data with the backing of acclaimed experts in digital agriculture and crop science to keep things simple.
Gear Tent
Founded by Nancy Broten and Nathan Evans, Gear Tent connects the outdoor community in a virtual world to exchange within a large market of shoppers and buyers who know and trust reputable quality outdoor brand names.

Demo Day
Each of these companies brought their A-game when it came to pitching their companies at Demo Day on November 3rd right here in the Cultivator Pitch Space.
With a crowd of 75+ attendees, each 3-minute pitch was critiqued and questioned by a panel of expert judges to narrow down who the grand prize of $10,000 was going to.
The people also had a say in who was going to be taking home some cash with the "People's Choice" award worth $1,000 for the selected startup.

And the winners are…
Grand Prize Winner – Pet Drifts 
People's Choice Winner – Gear Tent

A huge thank you to the speakers and mentors that showed up to bring this cohort of startups to the next level, and a special KUDOS to Erin Trapp – Conexus Venture Capital, Scott Love – StoreToDoor, and Jeremy Scott – Lumeca Health for taking the time to judge this Demo Day.